Music by David Arnold
Limited Edition of 5000 Units
RETAIL PRICE: $29.98
La-La Land Records, Universal Music Special Markets, EON Productions and Metro Goldwyn Mayer proudly present the remastered and expanded 2-CD re-issue release of the original motion picture score to the 1999 feature film THE WORLD IS NOT ENOUGH, starring Pierce Brosnan as James Bond 007, Sophie Marceau and Robert Carlyle, and directed by Michael Apted. Renowned composer David Arnold (QUANTUM OF SOLACE, CASINO ROYALE, DIE ANOTHER DAY, TOMORROW NEVER DIES) fashions a tremendous musical work -- his second in the James Bond canon. It's an epic score that keeps breathless pace with James Bond himself, musically matching all of the film's globe-spanning adventure, drama, romance and suspense with sophistication and excitement. As he began with TOMORROW NEVER DIES, Arnold continues to push the contemporary edge of the score, whilst honoring the series' classic musical legacy.
Remastered and expanded, with previously unreleased music, this 2-CD deluxe presentation showcases Arnold's score in stellar fashion. Among this re-issue's unreleased treasures are two early song demos performed by the composer. The official title song, performed by Garbage, is also contained in this program. Produced by David Arnold and Neil S. Bulk, and mastered by Doug Schwartz, from original stereo digital tapes provided by MGM, this special release is limited to 5000 units and features exclusive, in-depth liner notes by writer Tim Greiving, which include new comments from the composer and famed Bond lyricist Don Black as well as director Apted. Dan Goldwasser's sharp art design, based on the original US poster for the film, ties up this must-have release in precise and classy fashion.
THE WORLD IS NOT ENOUGH limited edition 2-CD set retails at $29.98 and is exclusively available at www.lalalandrecords.com, 007store.com, and other online soundtrack boutiques.
THIS IS A CD RELEASE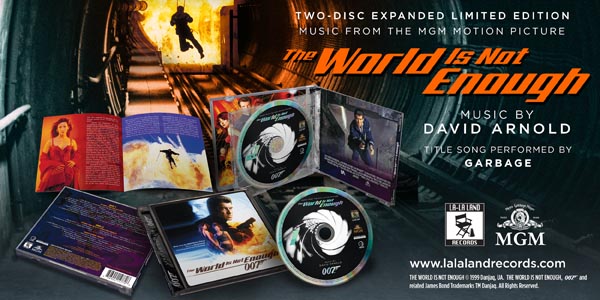 TRACK LISTING:
Disc 1
Score Presentation
Show Me The Money†  1:27
Come In 007, Your Time Is Up†  5:20
Balloon*  1:03
The World Is Not Enough  3:54
Performed By Garbage
Dr. Warmflash*  :30
Access Denied  1:34
M's Confession  1:35
Welcome To Baku  1:42
Ice Bandits  3:42
Out Of The Snow* / Stay With Me Please*  1:27
Casino  2:56
Card Game*  1:27
Devil's Breath*  2:08
Elektra's Theme  2:06
Body Double  3:00
Welcome To Kazakhstan*† 1:32
Bond's Bedroom Bombshell*  :38
Pipeline†  4:16
Elektra Turns* / Renard's Plutonium Gift*  1:38
Remember Pleasure (Extended Version)**  3:14
Submarine Surfaces* / Renard Greets Nik* / M Clocks Locator*  1:52
Torture Queen  2:24
Total Disc 1 Time 73:58
Disc 2
Score Presentation Continued
Submarine #1  4:11
Submarine #2**  6:26
Sub Gets It*  :46
Christmas In Turkey  1:28
Only Myself To Blame  3:36
Performed by Scott Walker

Total Score Time  97:58
Additional Music
Gun Barrel (Separate Elements)*†  1:14
Welcome To Baku (Film Version)**  1:42
Snow Business (Alternate)*  1:27
Going Down - The Bunker  6:26
Remember Pleasure  2:45
Caviar Factory†  6:01
Submarine  10:19
The World Is Not Enough (Demo)*  3:59
Performed by David Arnold
Only Myself To Blame (Demo)*  2:56
Performed by David Arnold


Total Additional Music  43:09
Total Disc 2 Time  67:40
* Previously unreleased
** Contains previously unreleased material
† Contains "James Bond Theme" written by Monty Norman