LIMITED EDITION OF 5000 UNITS

La-La Land Records, Warner Bros. Records, EON Productions and Metro-Goldwyn-Mayer proudly present the remastered and expanded CD re-issue release of the original motion picture score to the 2002 feature film DIE ANOTHER DAY, starring Pierce Brosnan as Ian Fleming's James Bond 007, Halle Berry and Toby Stephens, and directed by Lee Tamahori. Acclaimed composer David Arnold (QUANTUM OF SOLACE, CASINO ROYALE, THE WORLD IS NOT ENOUGH, TOMORROW NEVER DIES) unleashes a powerhouse of a score -- his third in the legendary James Bond canon. It's a thrilling musical journey -- keeping one foot in the time-honored romance and swagger of classic Bond, and one in the age of cutting-edge electronics. Remastered and expanded, with over an hour of never-before-released music, this 2-CD deluxe presentation showcases Arnold's score in a revelatory fashion that's sure to leave listeners shaken and stirred in the best possible way! Produced by David Arnold and Neil S. Bulk, and mastered by Doug Schwartz, from new transfers of analog stereo tapes provided by the composer, this special release is limited to 5000 units and features exclusive, in-depth liner notes by writer Tim Greiving, including new comments from the composer. Dan Goldwasser's sleek art design wraps up this must-have release in classic fashion.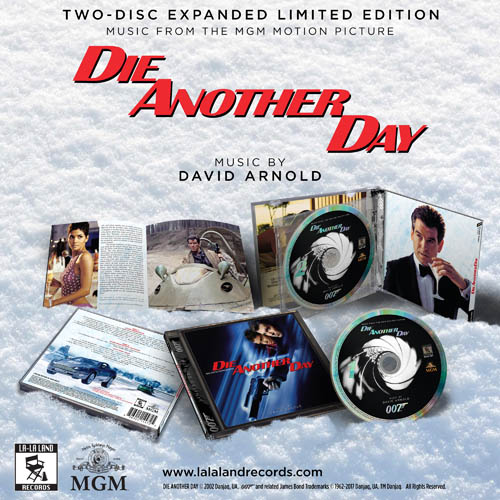 This is a compact disc release.
TRACK LISTING:
Disc 1 (Score Presentation)
Bond Meets Moon* / Hovercrafts* 2:16
How Do You Intend to Kill Me Now, Mr. Bond?* 2:02
Hovercraft Chase† 3:48
Bond to Jail* :49
Peaceful Fountains of Desire* 1:05
What's In it For You?* / Cuba* 1:21
Cuban Car*† :50
Jinx Jordan 1:28
Jinx & James 2:03
Jinx, James and Genes* 5:14
Gustav Graves' Grand Entrance*† 1:34
Bond Gets the Key* / Virtual Reality*† 2:01
The Vanish* / Bond Goes to Iceland*† 2:10
The Explanation* 1:36
Icarus 1:23
Ice Spy*† 3:00
A Touch of Frost 1:50
Laser Fight 4:36
It Belongs to His Boss* / Double Agent* 2:34
Whiteout† 4:55
Bond Kidnaps Skidoo*† 2:29
Iced Inc.† 3:08
Total disc 1 time = 76:47
Disc 2 (Score Presentation Continued)
Switchblades*† 3:23
Antonov 11:51
Moneypenny Gets It* 1:11
Total score time = 98:04
Additional Music
On the Beach† 2:50
Hovercraft Chase (film version)**† 3:47
Some Kind of Hero? (film version)** 4:32
Peaceful Fountains of Desire (alternate ending)* 1:06
What's In it For You? (orchestra only)* :41
Jinx Jordan (orchestra only)** 1:28
Jinx & James (film version)** 2:07
Party Trick (source)* 1:37
Laser Fight (film version)** 4:38
Whiteout (full mix)**† 4:55
Antonov (film version)** 11:51
Total additional music = 49:45
Total disc 2 time = 71:43
Total album running time = 148:30
* Previously unreleased
** Contains previously unreleased material
† Contains "James Bond Theme" written by Monty Norman