LIMITED EDITION OF 3000 UNITS


La-La Land Records, Warner Bros. and WEA celebrate Warner Bros.' 90th Anniversary, with the LETHAL WEAPON SOUNDTRACK COLLECTION - an 8-CD BOX SET featuring Michael Kamen, Eric Clapton, and David Sanborn's iconic film scores from all four LETHAL WEAPON films. Each LETHAL WEAPON score is contained in its own 2-CD jewel case, and all four scores, along with a 40-Page booklet, are housed in an attractive slip case.
Finally, some of the greatest action film music ever composed — from the most celebrated cop-action saga of all time — is presented here in a deluxe presentation worthy of their legacy. The scores to LETHAL WEAPON 1-3 have been greatly expanded beyond their original soundtrack album presentations (the original soundtrack assemblies are remastered and presented as well.) and the score from LETHAL WEAPON 4 makes its world premiere with this set. A bounty of previously unreleased score music is featured here, literally hours worth, along with bonus score tracks and knockout songs from the likes of Sting, Elton John, George Harrison, The Beach Boys and more — not to mention the Bobby Helms rendition of "Jingle Bell Rock," which opens the original LETHAL WEAPON!
Produced by Neil S. Bulk and MV Gerhard and mastered by James Nelson from WB vault materials, this amazing release, limited to 3000 Units, features a 40 Page booklet with exclusive liners by film music writer Jeff Bond, with new comments from director Richard Donner, and explosive art design by Jim Titus. Once you dig into this sensational set, we know you'll agree with us when it comes to Michael Kamen and LETHAL WEAPON, you'll never get "too old for this sh#*!"
A portion of the proceeds from the sale of this item will be donated to the Mr Holland's Opus Foundation. More information on this wonderful organization can be found here: http://www.mhopus.org/
NOTE: All of, or portions of, the following four tracks from LETHAL WEAPON 3 were mastered from film stem sources (as no other elements could be located) and are of lesser sound quality than the rest of the presentation, which was mastered from pristine analog and digital WB vault materials. Disc 5:10. Jack Kills Billy (2:08 - end), 15. Man's Best Friend/Lorna's First Fight (1:42 - 2:54), 18. Shaving. Disc 6: 14. I Can't Retire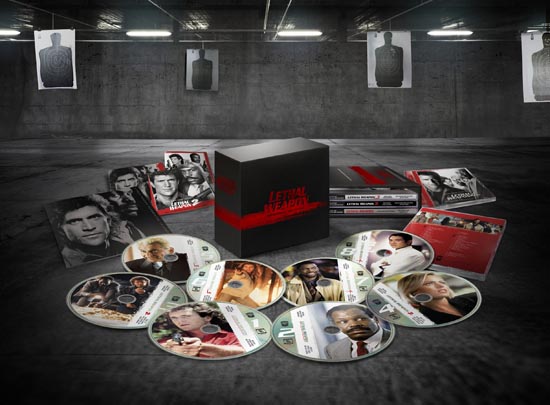 THIS IS A COMPACT DISC RELEASE
Music by Michael Kamen and Eric Clapton
Track Listing
Disc One
1. Jingle Bell Rock 2:03
-vocal by Bobby Helms
2. Amanda †3:44
3. Meeting Martin Riggs/Roger's Daughter 1:20
4. She Just Dove †1:03
5. Coke Deal †1:59
6. Suicide †2:26
7. Meet Your New Partner * 2:35
8. Burning Joshua :51
9. The Jumper 4:51
10. Rog and Riggs Confront 1:33
11. Drive to Dealer's House 2:43
12. Dealer's House/Swimming Pool †3:03
13. Took a Lot of Guts */Riggs' Soliloquy 1:36
14. Porno Tape 1:20
15. Firing Range * 1:33
16. Dixie's House */Alfred * 2:10
17. The Hunsacker Story * 3:03
18. Helicopter */Riggs Walks to Tart * 1:47
19. Riggs Gets Shot †1:00
20. They've Got My Daughter/Is Riggs Dead? Or What? * 2:31
21. The Desert †8:56
22. Hummingbird Treatment */Riggs Escapes 4:49
23. We're Leaving 4:11
24. General's Car 1:42
25. S.O.B. Knows Where I Live †1:17
26. Yard Fight/Graveside 5:57
Total time Disc One: 70:54
Disc Two
Original Soundtrack Album
1. Lethal Weapon 2:41
-performed by Honeymoon Suite
2. Amanda 3:07
3. Meet Martin Riggs 5:22
4. Roger 4:01
5. Coke Deal 4:16
6. Mr. Joshua 4:06
7. They've Got My Daughter 1:03
8. The Desert 7:44
9. Nightclub 3:39
10. The Weapon 4:25
Additional Tracks
11. Suicide (original) 1:38
12. Suicide (alternate)* 2:34
13. Helicopter (alternate mix)* 1:39
14. S.O.B. Knows Where I Live (orchestra only) 1:17
Total time Disc Two: 47:43
Total time: 118:37
* previously unreleased
†contains previously unreleased material
LETHAL WEAPON 2
Music by Michael Kamen, Eric Clapton, and David Sanborn
Disc Three
1. Main Title */Chase the Red BMW */Krugerrand * 7:08
2. Riggs' Shoulder * 2:52
3. Pieter Shoots Hans * /The Gold Pen */Rog Is Taped * /Hotel—Meeting Leo * /Pool Fall * 7:31
4. You're Black, I'm Mad */Drive to Stilt House */Stilt House Fight * 3:40
5. Mulholland Chase * 2:51
6. Meeting Rudd */Bust * 3:24
7. Rubber Tree */Goodnight Mr. Rudd * 2:13
8. Haunting Rudd * 2:11
9. Finding Roger on the Toilet */Bomb Reveal */Bomb Squad Arrives * 2:57
10. Riggs & Murtaugh in Toilet */After the Toilet Bomb * 2:56
11. Sneaking Into the Embassy */So Long and Thanks for the Fish */Leo Loses Door * 6:18
12. Wyler is Shot * 1:43
13. Card House Explosion */Rika Lerve*/The Alba Varden/Nail Gun Fight 5:30
14. Helicopters Approach */Helicopter Attack †5:30
15. You Can Stay With Me †/Riggs Captured/Riggs Fights Back * 4:51
16. Carrying Rika on the Beach * 3:11
Total time Disc Three: 65:17

Disc Four
1. Stilt House Falls * 2:42
2. Drive to Shipyard †1:53
3. Locked Into a Container */Out of Container */Ship Fight * 3:08
4. Ballet Fight */Riggs is Shot * 3:36
5. Knockin' on Heaven's Door/Riggs Dying 2:21
Original Soundtrack Album
6. Cheer Down 4:08
-performed by George Harrison
7. Still Cruisin' (After All These Years) 3:36
-performed by The Beach Boys
8. Knockin' on Heaven's Door 4:58
-performed by Randy Crawford
9. Riggs 5:16
10. The Embassy 5:37
11. Riggs and Roger 5:53
12. Leo 3:43
13. Goodnight Rika 4:05
14. The Stilt House 4:21
15. The Shipyard 4:46
Total time Disc Four: 60:13
Total time 125:30
* previously unreleased
†contains previously unreleased material
LETHAL WEAPON 3
Music by Michael Kamen, Eric Clapton, and David Sanborn
Disc Five
1. Trust Me * 3:34
2. Afterglow :57
3. Jaywalker * 2:01
4. Armoured Car Chase * 4:33
5. Leo Getz †3:20
6. Concrete Death †1:59
7. Rianne's Big Break * 2:16
8. Locker Room * :43
9. Firing Range * :59
10. Jack Kills Billy * 3:15
11. Hockey Game * :58
12. Dum-Dum Wound * 1:07
13. Shooting Darryl, Part 1 †3:12
14. Shooting Darryl, Part 2/Step Into My Office †2:17
15. Man's Best Friend †/Lorna's First Fight * 6:41
16. Scars */Love Scene * 3:45
17. Roger's Boat †5:28
18. Shaving * 1:17
19. Gun Montage */Lorna's Second Fight * 3:33
20. Captain Abducted/Captain and Travis * 1:34
21. Unauthorized Access * 1:57
22. Gun Battle †3:47
23. Riggs Falls * 2:11
24. Drive to Housing Development †/On Three * 3:34
25. Fire/Fire Battle */A Quiet Evening by the Fire 7:01
Total time Disc Five: 72:46

Disc Six
Original Album
1. It's Probably Me 6:24
-performed by Sting with Eric Clapton
2. Runaway Train 5:26
-performed by Elton John and Eric Clapton
3. Grab the Cat 1:36
4. Leo Getz Goes to the Hockey Game 3:00
5. Darryl Dies 4:56
6. Riggs and Rog 2:55
7. Roger's Boat 5:02
8. Armour Piercing Bullets 4:35
9. God Judges Us By Our Scars 1:59
10. Lorna - A Quiet Evening by the Fire 3:37
Additional Tracks
11. Leo Getz (alternate) * 2:38
12. Armoured Car Chase (no overlay) * 4:33
13. Gun Battle (alternate) * 5:26
14. I Can't Retire †1:30
Total time Disc Six: 53:49
Total time: 126:35
* previously unreleased
†contains previously unreleased material
LETHAL WEAPON 4
Music by Michael Kamen, Eric Clapton, and David Sanborn
Disc Seven
1. Don't Turn/Cute Shorts 3:10
2. Leo's Shark/Boys on Boat 3:24
3. Freighter 5:57
4. The Payoff 1:14
5. Slaves 1:14
6. Butters' Intro 2:06
7. Lifeboat 1:12
8. Marriage Talk 3:30
9. Chinese Food 2:20
10. Freeing Slaves 2:38
11. Birdman News/Butters Likes Me 2:10
12. Drive to Uncle Benny's/Leo Gets Arrested 1:40
13. Uncle Benny's Restaurant 1:15
14. Chinatown Chase 3:27
15. Riggs Falls 1:25
16. Tequila 2:08
17. Chinese Prison 1:21
18. Locker Room 2:15
19. Cell Phone 2:49
20. House Fight 2:41
21. Ku Attacks 3:11
Total time Disc One: 51:50

Disc Eight
1. Freeway Chase 4:51
2. Riggs on Table 4:03
3. Four Fathers 2:33
4. Holiday Talk 1:14
5. Hong with Money/Money Montage 3:31
6. Baby Train 4:50
7. Warehouse Fight/Showdown 4:58
8. Underwater Fight 3:43
9. Underwater Fight Concludes 1:43
10. Murtaugh to the Rescue 2:52
11. Cemetery 3:36
12. Hospital/Babies 2:46
Additional Cues
13. Butters' Intro (alternate) 1:45
14. Chinatown Chase (alternate) 3:25
15. Wild Takes 2:07
Total time Disc Eight: 48:30
Total time: 100:20