Music by John Williams, Alexander Courage, Leith Stevens, Harry Geller, Artie Kane, Joseph Mullendore, Richard LaSalle, Robert Prince, Irving Gertz and Paul Sawtell
Limited Edition of 1000 Units
RETAIL PRICE: $59.98
La-La Land Records, Synthesis Entertainment, 20th Century Fox, Fox Music and Legendary Pictures proudly present LAND OF THE GIANTS - 50TH ANNIVERSARY SOUNDTRACK COLLECTION: LIMITED EDITION, a deluxe 4-CD box set of original music from the classic Irwin Allen 60's sci-fi/fantasy television series!
The original scores from this cherished series, a re-imagining of influences from Jonathan Swift and Gulliver's Travels, in the format of Allen's LOST IN SPACE, sparkle like never before in this anniversary presentation, restored and mastered from original scoring elements. Fans will delight, as much of the music in this collection has been unreleased for 50 years, making its world premiere with this release! Even John Williams's score to "The Crash," is released for the first time in its entirety. Score selections from episodes such as "Framed," "The Flight Plan," "Target: Earth," "Shell Game," "Home Sweet Home," "Panic" are just a fraction of what's here!
The music of LAND OF THE GIANTS teams with the thrills, drama, fun and heart - a trademark of the series, and this 4-CD collection proves to be a wondrous and timeless example of classic 60's television scoring at its finest. Featuring music by John Williams, Alexander Courage, Leith Stevens, Harry Geller, Artie Kane, Joseph Mullendore, Richard LaSalle, Robert Prince, Irving Gertz and Paul Sawtell, this deluxe set, limited to 1000 units, is produced for 20th Century Fox by Nick Redman, executive produced by Kevin Burns, produced by Jeff Bond and Neil Bulk, and mastered by James Nelson. The exclusive, in-depth liner notes are by co-album producer Bond and the fantastical art design is by Mark Banning. Finally, the music of LAND OF THE GIANTS is here, for all to relive or to discover!
THIS IS A CD RELEASE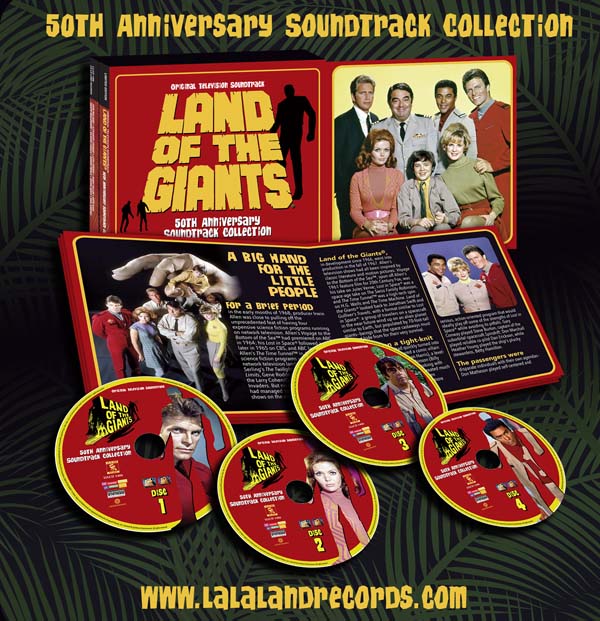 ORDER THE AMAZING BOOK "THE FANTASY WORLDS OF IRWIN ALLEN" by Jeff Bond now!



TRACK LISTING:
DISC 1
The Crash: John Williams
Off Course / The Landing 4:27
Giant Eyes / Hidden Gun 4:37
Fitzhugh / The Fog 2:14
The Big Cat / Bug Box 4:16
Box Play-On / Fitzhugh's Gun / Hiding Place 7:17
Play-On / Empty Threats 2:46
Giants Probing 4:00
The Rescue 2:49
Water Drain / More Garbage 2:46
Total Score Time: 37:20
Bumper #1 0:07
John Williams
Framed: Leith Steven
Success / A Camera 1:31
Total Score Time: 4:14
Underground: Letih Stevens
The Drop 2:46
Episode Titles / Mr. Fitzhugh 2:40
Total Score Time: 5:26
Terror-Go-Round: Joseph Mullendore
Act On / Except When Irritated / The Hoops 3:44
Search For Plugs 2:08
In Flight / Curtain 2:51
Total Score Time: 10:47
The Flight Plan: Paul Sawtell
Joe Big Deal 1:17
Total Score Time: 3:46
Manhunt: Letih Stevens
Come In Spindrift 1:28
Episode Titles 3:20
Hold It / Act Opening / Rocks 1:53
Fight II / End Of Show 1:19
Total Score Time: 9:54
Land Of The Giants (Season 1 End Title) 0:30
Total Disc 1 Time: 74:15
DISC 2
Joseph Mullendore
The Creed: Irving Gertz
Poor Little Fellow 1:43
Long Haul / In The Crate / Smell Of Ether 4:45
No Alternatives 1:08
Keep The Boy Warm / Doctor Brulle 2:48
Total Score Time: 13:08
Bumper #2 0:07
John Williams
The Golden Cage: Harry Geller
Big Carrot / Two Big Ones 2:04
The Lantern 1:05
Golden Cage / Cut Off / Hiding 1:42
Normal People / Thanksgiving 1:22
Punches / Many Blows 0:54
Testing / Harpooned 1:55
Big Stone / Come On / Fine 1:40
Total Score Time: 10:42
Night Of Thrombeldinbar: Leith Stevens
Episode Titles / Screened Vent 1:34
Goodbye / Act Out 1:36
Total Score Time: 5:51
Target: Earth: Harry Geller
Come On 1:12
Flight And Escape 1:39
Total Score Time: 7:01
Return Of Inidu: Joseph Mullendore
Opening / The House / Dancing Light / Ghost 1:15
Freeze Frame 1:09
Giant Steve / Act Out 1:37
Enog Gets Rough 2:41
Help, Murder, Police! / Final Scene 2:02
Total Score Time: 11:09
Rescue: Leith Stevens
Episode Titles / Steve Caught 2:09
Cave In 2:54
Past The Obstruction 2:56
Breathe, Leeda 1:19
Mother Speaks / Optimism 3:53
There They Are 2:17
Total Score Time: 15:28
Shell Game: Joseph Mullendore
Waterfront / Deaf Boy 2:10
Episode Titles 1:15
Boy And Lobster / Make Hearing Aid / Act On 3:55
Dal Hears / Last Scene 2:28
Total Score Time: 9:48
Land Of The Giants (Unused Season 1 End Title) :30
Joseph Mullendore
Total Disc 2 Time: 76:10
DISC 3
Land Of The Giants (Season 2 Main Title) 1:02
(contains sound effects)
John Williams
The Mechanical Man: Richard LaSalle
Enter Super Giant 2:14
Gathering The Little People / The Scope 3:00
Hustle Back / Valerie Runs 1:58
Failure 0:56
Destruction Of The Giants 3:20
Total Score Time: 14:39
The Inside Rail: Harry Geller
Have A Heart / Grand Stand / Legs 1:03
Moley 0:59
Almost Up / Get Me Out 1:31
Het Horse / Plan And Escape 4:02
Rooster Go 1:14
The Goat / Decisions 1:59
Total Score Time: 14:03
Deadly Pawn: Joseph Mullendore
The Mansion / Scatter Run! 0:45
Act In / Episode Titles / Let's Hide / War Of Chessmen 2:29
Act In / Set? Set! 2:40
Walkie-Talkies 2:08
Animal Trap / Get Busy / Mathematical Odds 2:48
Total Score Time: 10:50
The Unsuspected: Richard LaSalle
Unconscious / On The Trail 1:37
The Search / Giant Hunting Knife 2:37
The Threatening Axe 1:00
Death At The Mousehole 1:20
Axe Fight / We're Coming 2:25
Total Score Time: 12:21
Giants And All That Jazz: Harry Geller
Close Call / Biff Down 1:05
Come On / The Building / S.I.D. 1:28
The Ploy II 1:09
The Attempt / Kick It In 1:07
Step On Them / Smoke / Seltzer 1:58
Total Score Time: 6:47
Collector's Item: Artie Kane
Golden Box 1:19
Total Score Time: 3:55
Comeback: Alexander Courage
Hat Trick 1:24
Little Movie #1 1:28
Shorted Out 5:28
Total Score Time: 8:20
Bumper
John Williams
Total Disc 3 Time: 73:28
DISC 4
A Place Called Earth: Richard LaSalle
Time Travellers 1:52
A Place Called Earth / Force Field Shield 2:03
Treachery / Truth Serum 2:27
Put Away Your Weapon 0:58
Total Score Time: 11:39
Home Sweet Home: Richard LaSalle
Space Ship Camp / The Rangers Watch 1:00
Blast Off / Stalking The Little People / Come On 1:53
Exploring 1:29
Sheriff / Attack 2:54
Release Of The Space Ship 1:47
Total Score Time: 11:20
Nightmare: Robert Prince
Mark Mare / Happy End 3:04
Total Score Time: 5:49
The Secret City Of Limbo: Richard LaSalle
The Archaeologists 2:42
Secret City / The Secret Weapon / Walking Through Walls 3:55
Aza's Death 2:54
Total Score Time: 11:24
Panic: Joseph Mullendore
Episode Titles / Disappear / Someone Coming 2:04
Mrs. Evers And Fire 1:47
Cut Power 2:38
Total Score Time: 6:29
A Small War: Richard LaSalle
The Battle 2:38
The Aeroplane 3:04
Groggy / Sad But Glad 0:49
Total Score Time: 8:27
Graveyard Of Fools: Richard LaSalle
Graveyard Of Fools / Discovered / Preparing For Flight 3:08
Servoactuator 1:25
Materialize / Strange Impulses 1:57
Total Score Time: 8:09
The Crash (Rejected Score): Alexander Courage
Carried Away / Enter Willie Mays 0:29
The Sniveling Sneak 6:43
Total Score Time: 13:20
Land Of The Giants (Season 2 End Title) 0:30
John Williams
Total Disc 4 Time: 78:26

Total Time: 5:02:19