LIMITED EDITION OF 3000 UNITS
THIS IS A COMPACT DISC RELEASE

La-La Land Records and Twentieth Century Fox mark the 20th anniversary of the beloved television series THE X FILES with this second, 4-CD volume of Mark Snow's original score to the award-winning landmark program. More than 5hrs of incredible X-Files music, complied from many episode favorites, have been assembled in this strikingly attractive collection, produced by Mark Snow, Nick Redman and Mike Joffe and mastered by James Nelson. The 40-Page CD booklet contains exclusive, in-depth liner notes from film music writer Randall Larson and features comments from show creator Chris Carter and writer/producers Frank Spotnitz, Glen Morgan and James Wong. Limited to 3000 units, the set's CD Booklet and 4-CD Clamshell case are housed in a hard cover slipcase, in the same fashion as our acclaimed, sold-out first volume. The truth is in here - this is truly some of the most daring and enthralling music ever created for television.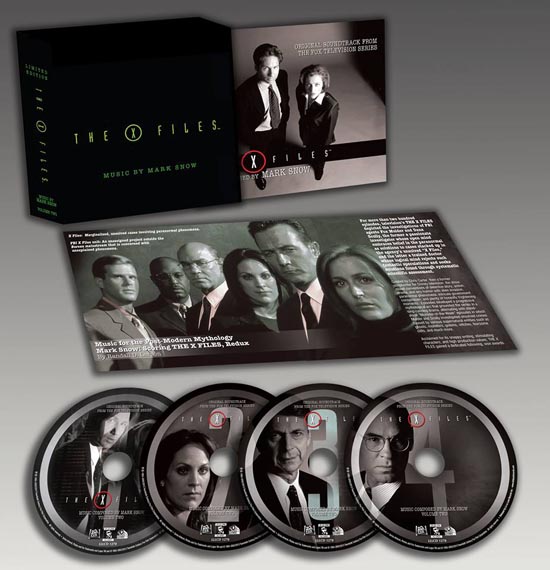 THIS IS A COMPACT DISC RELEASE
TRACK LISTING

Disc One
1. THE X FILES Main Title
(Season 1) 0:47
1X11 - EVE
2. Swinging Dead Daddy 1:26
3. Meet Your Clone 1:19
4. Attached 0:53
1X16 - YOUNG AT HEART
5. The Eyes Don't Lie 1:46
6. Ain't Dead Yet 4:03
7. Youth 3:37
8. Shot in the Crowd 2:29
1X17 - E.B.E.
9. Swimming With Sharks 5:14
10. Here We Go 2:42
1X21 - TOOMS
11. Druid Hill 2:42
12. Rats & Babes 1:59
13. Toilet Tooms 5:49
1X22 - BORN AGAIN
14. Psycho-Electric Attack 6:27
2X03 - BLOOD
15. Drive for Blood 3:26
2X14 - DIE HAND DIE VERLETZT
16. Prayer 0:45
17. Suicide Exam 2:34
18. Snake Hold 1:22
2X16 - COLONY
19. Hypothermia 2:43
20. Alta 2:35
2X17 - END GAME
21. Scully's Discovery/Mulder's E-Mail
Message/Skinner Helps Scully 8:19
22. Showdown/Saving Mulder/
Faith to Keep Looking 11:18

Disc One Total Time: 74:49
Disc Two
1. THE X FILES Main Title
(2nd Season) 0:49
2X23 - SOFT LIGHT
2. Eaten by Light 2:44
3. Spontaneous Combustion 4:39
4. Shadow on the Wall 2:21
2X22 - F. EMASCULATA
5. Flesh on Bone 4:31
6. Pustule Package 3:21
3X01 - THE BLESSING WAY
7. Blown Up and Beaten 2:50
3X02 - PAPER CLIP
8. Smoky Gets in Your Eyes 2:52
9. Outmined 2:23
10. Sacrifice/
Skinner Gets Skinned 4:04
3X04 - CLYDE BRUCKMAN'S 
FINAL REPOSE
11. Yappi 2:18
12. Dumpster 3:00
3X14 - GROTESQUE
13. Disarmed 1:28
3X24 - TALITHA CUMI
14. Fries and Faith 2:38
15. Discreet Distance 3:04
4X01 - HERRENVOLK
16. Needle Neck 6:54
4X02 - HOME
17. Newborn 2:11
4X09 - TUNGUSKA
18. Worm Rock 12:48
19. Chicken Wire Wrap 7:57
20. THE X FILES End Credits (Extended #1) 0:35
Disc Two Total Time: 74:23
Disc Three
1. THE X FILES Main Title
(7th Season) 0:35
4X10 - TERMA
2. Black Vermiform 6:03
3. Fire of Terma 8:47
4X17 - TEMPUS FUGIT
4. Pieces 6:28
5. Nine Minutes 3:24
4X24 - GETHSEMANE
6. Trails 5:37
7. Thawed 11:30
8. Deep Dupe 4:17
5X01 - REDUX
9. Little Vials of Proof 8:23
5X02 - REDUX II
10. Remission 5:42
5X14 - THE RED AND THE BLACK
11. Red Letter 2:46
12. Resist or Serve 3:45
13. Lil' Cabin in Quebec 8:42

Disc Three Total Time: 76:35
Disc Four
1. THE X FILES Main Title
(9th Season) 0:36
5X17 - ALL SOULS
2. Baptism 3:45
3. Four Faces 7:28
6X09 - S.R. 819
4: Orgell 2:26
5. Bill of Health 4:29
6X22 - BIOGENESIS
6. Map of the Genome 4:00
7X14 - THEEF
7. Voodoo Doll 7:19
7X22 - REQUIEM
8. D�j� vu 3:55
9. Ray 5:09
9X04 - 4-D
10. Pulling the Plug 9:00
8X21 - EXISTENCE
11. Something Feels Off 3:03
12. Replicant Revolution 6:21
13. Under Investigation 3:14
8X15 - DEADALIVE
14. Deep Six 2:53
15. AliveAlive 11:03
16. THE X FILES End Credits
(1st Season) 0:30
17. I Made This / 20th Century Fox Fanfare* 0:08

* - Music By Alfred Newman
Disc Four Total Time: 76:04

Total Set Running Time: 298:27
LLLCD 1270