Autographed copies are no longer available

La-La Land Records proudly presents the original motion picture scores to the classic Paramount Pictures horror sequels FRIDAY THE 13th PART 2 (1981) and FRIDAY THE 13th PART 3 (1982). Acclaimed composer Harry Manfredini (FRIDAY THE 13th, DEEPSTAR SIX, SWAMP THING) returned to his iconic original FRIDAY THE 13th music and further developed his unique sonic template of musical terror with these two subsequent sequel scores, which remain beloved by old and new fans alike. This is some of the most chilling and expertly orchestrated film music to come out of genre cinema. Disc One contains the score to PART 2 and Disc Two contains PART 3. Produced by Harry Manfredini, Neil S. Bulk and MV Gerhard, and mastered by James Nelson, this 2-CD set contains liner notes by writer Brian Satterwhite and art design by Dan Goldwasser. This assembly and master is identical to the Part 2 and Part 3 discs from La-La Land's out-of-print FRIDAY THE 13TH 1-6 box set.

NOTE: For those of you wondering about Part 3, we decided the best representation of this score was to include ALL the music featured in the film, including those cues recycled from Parts 1 and 2. The original music editor did such a great job stitching together all these tiny cues into longer cues, that he essentially created an entirely NEW score for this film.
THIS IS A COMPACT DISC RELEASE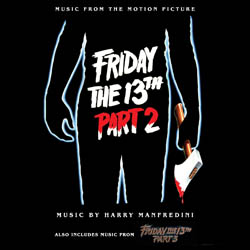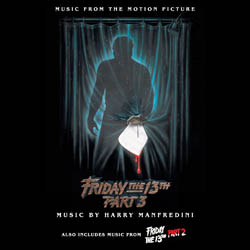 TRACK LISTING:
DISC ONE
FRIDAY THE 13TH: PART 2
1. Flashback (5:33)
2. Alice Hangs Up (1:59)
3. Keep a Cool Head (aka Main Title) (2:11)
4. Prowler (2:01)
5. Ralph Gets Cursed (1:37)
6. Terry Looks for Muffin (0:53)
7. Jeff and Sandy are Watched (0:54)
8. The Chase / Sheriff Visits Villa Jason (2:52)
9. Terry in Lake / Dolly In, Scott Out (2:32)
10. Vickie is Watched / Jason at Door (2;31)
11. Vickie Goes Up (0:47)
12. Jason and Paul Meet (1:24)
13. Ragtop and Running Ragged (3:53)
14. Ginny Under the Bed (3:59)
15. Ginny Visits Villa Jason (5:32)
16. Who's at the Door (1:58)
17. Return to Chez Jason / Titles (2:26)
DISC ONE RUNNING TIME: 43:02
DISC TWO
FRIDAY THE 13TH: PART 3
1. Part 2 Flashback* (4:21)
2. Theme from Friday the 13TH Part 3 (4:28)
(Written By Harry Manfredini and Michael Zager)
3. The General Store* (1:36)
4. The Meat Cleaver* (2:59)
5. Arriving at the Barn / Fake Axe* (1:32)
6. Let's Go for a Swim* (0:51)
7. Who's Up There?* (1:55)
8. In the Barn* (1:50)
9. The Pipe Wrench* (0:42)
10. In the Bedroom* (1:21)
11. Flashback to Meeting Jason* (1:23)
12. Chuck Walks to Outhouse* (1:32)
13. The Lake Dock* (1:27)
14. Shelly Goes to The Barn* (1:17)
15. Wallet in the Lake* (1:09)
16. Debbie Takes a Shower* (0:44)
17. Walking On Hands* (1:10)
18. The Fuse Box* (3:35)
19. Chili Bites the Big One (0:49)
20. Nobody Home (0:33)
21. The Eyes Have It (2:32)
22. Jason Down Stairs to Barn (7:11)
23. Jason Hung (3:34)
24. Jason Grabs Rope (2:05)
25. Hallucinating** (1:16)
26. Jason Dead in Barn / End Credit Title (3:39)
* - Comprised of Music from Parts 1 and 2
** - Partially Comprised of Music from Parts 1 and 2
DISC TWO RUNNING TIME: 55:31