LIMITED EDITION OF 2000 UNITS

OUT OF PRINT
THIS IS A COMPACT DISC RELEASE

La-La Land Records, Twentieth Century Fox and FOX Music present a re-issue of our previously sold-out 2-CD SET of the original motion picture score to the classic 1988 action blockbuster DIE HARD, starring Bruce Willis, Alan Rickman and Bonnie Bedelia, and directed by John McTiernan. Renowned composer Michael Kamen (LETHAL WEAPON 1-4, ROBIN HOOD: PRINCE OF THEIVES, THE LAST BOY SCOUT, DIE HARD 2-3) constructs an indelible musical template for the iconic, one-man-army of an everyman, John McClane, as he wages a skyscraper-encased war against a group of high-tech, heavily-armed thieves led by uber-villian Hans Gruber. Kamen's score masterfully builds suspense, propelling all the plot's high-octane action while enriching the characterizations. The DIE HARD experience is rounded out in this presentation with source cues and bonus tracks such as Vaughn Monroe's "Let It Snow", Run DMC's "Christmas in Hollis," John Scott's "We've Got Each Other" and more! Produced by Nick Redman and Eric Lichtenfeld, restored by Mike Matessino and remastered by Daniel Hersch, this special 2-CD release features exclusive, in-depth liner notes by Eric Lichtenfeld and track-by-track analysis by film music writer Jeff Bond. This is a limited edition re-issue of 2000 units. Yippie-Kay-Yay!

NOTE: The musical and liner notes content of this re-issue is identical to our previous release, but brand new art design by Jim Titus welcomes this reprise to the party!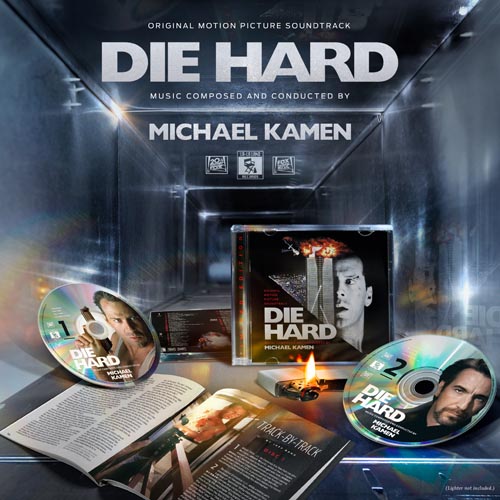 THIS IS A COMPACT DISC RELEASE
TRACK LISTING:
DISC ONE
Main Title* (0:38)
Terrorist Entrance (4:05)
The Phone Goes Dead/
Party Crashers (1:51)
Wiring the Roof (1:51)
Fire Alarm (2:04)
Tony Approaches (1:41)
Santa (0:55)
He Won't Be Joining Us (3:01)
And If He Alters It (2:39)
Going After John (4:29)
Have A Few Laughs/ Al Powell Approaches (3:31)
Welcome to the Party (1:09)
TV Station (2:47)
Holly Meets Hans (1:19)
Assault On the Tower (8:35)
Disc 1 Time: 49:53
DISC TWO
John Is Found Out (5:03)
Attention Police (3:54)
. Bill Clay (4:09)
Shooting the Glass (1:05)
I Had an Accident (2:37)
The Vault (3:07)
Message for Holly (1:07)
Helicopter Explosion and Showdown (4:00)
Happy Trails (1:12)
Let It Snow (1:43)
Performed by Vaughn Monroe
Written by Sammy Cahn and Jule Styne
Published by WB Music Corp. OBO Cahn Music Company (ASCAP); Chappell & Co OBO Producers Music Publishing Co (ASCAP)
Courtesy of Geffen Records under license from
Universal Music Enterprises
Beethoven's 9th
(End Credits Excerpt) (3:54)
Written by Ludwig Van Beethoven
Courtesy of APM Music
BONUS TRACKS
The Nakatomi Plaza (1:45)
Message for Holly (Film Version)* (2:46)
Gun in Cheek* (1:01)
Ode to Joy (Alternate) (2:10)
Let It Snow (Source) (1:58)
Performed by Michael Kamen
Written by Sammy Cahn and Jule Styne
Published by WB Music Corp. OBO Cahn Music Company (ASCAP); Chappell & Co OBO Producers Music Publishing Co (ASCAP)
Winter Wonderland (Source) (1:25)
Written by Felix Bernard and Dick Smith
Christmas in Hollis (4:49)
Performed by RUN-DMC, Courtesy of Arista Records
Written by Joseph Simmons, Darryl McDaniels, Jason Mizell
Published by WB Music Corp. (ASCAP)
P 1987 Arista Records LLC
By arrangement with Sony Music Licensing
Disc 2 Time: 57:59
*Mono Source
Total Time: 107:52